TEACHING THE ALPHABET
Teaching the alphabet is just one of the stepping stones on the path to reading and writing.
Learning letters need not be "regimental drill"! I have taught rigorous and thorough phonics programmes and I have worked with lots of children who have major challenges in putting it all together to move on successfully to the path of reading and writing. I wish I had realised sooner that learning the letters of the alphabet and its letter sounds and combinations can be a natural and relaxed process!
I chose to move away from a more "drill" type introduction to the alphabet when we reached that point where I felt we were ready. I found a wonderful, gentle programme called ABC Fun & 1-2-3 by Shirley Erwee, which comes with my highest recommendation. Shirley has done a wonderful job of giving you all you need to introduce your child to the letters of the alphabet in a no stress, relaxed way! Shirley did an excellent job of providing both structure and flexibility, and a wonderful variety of activities and books to use as you work your way through the alphabet in any order you like!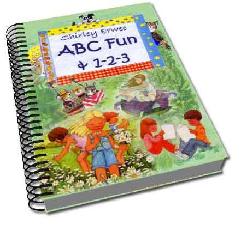 We made so many wonderful memories with this programme, and both my children still pull the files they created off the shelf every now and then and look through them.
FUN ALPHABET ACTIVITIES-COMING SOON
LIVING BOOKS-COMING SOON


Back to Fun Learning Activities for Children from Teaching the Alphabet